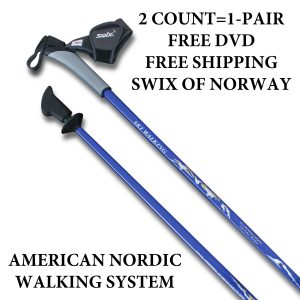 SWIX of Lillehammer, Norway, is one of the most recognized and award-winning companies in the ski biz. Our SWIX Nordic Walking Poles are made right along with the world's best ski racing poles. SWIX makes quality one-piece poles that are the most durable in the industry. And all of our walking poles come with comfortable patented Nordic straps. These straps revolutionized cross country ski racing, and these same straps turn out to be the absolute best straps for hiking poles.
The cheap and flimsy collapsible poles flooding the market from China are pretty much junk and are equipped with twist-locks and flip-locks that rattle, vibrate, break easily, refuse to hold their settings and often fail altogether. Athletes destroy collapsible poles. Seniors and individuals with balance issues should never be sold collapsible poles. Plus these mass produced poles from China do not have real Nordic straps – some come with no straps, simple loop straps or cheap velcro slings. Don't get scammed by collapsible poles.
The following email made our day:
From Gerry, one of our many happy customers – "I love these poles! Great quality, light-weight, and …hey, it feels great to be holding 'ski poles' again! I used Swix ski poles 50 years ago, and it's wonderful to see that they still make the best!"
Quality construction and made with quality materials = SWIX of Lillehammer, Norway.
SWIX Nordic Walking Poles are found exclusively in North America at WWW.SKIWALKING.COM and the American Nordic Walking System.