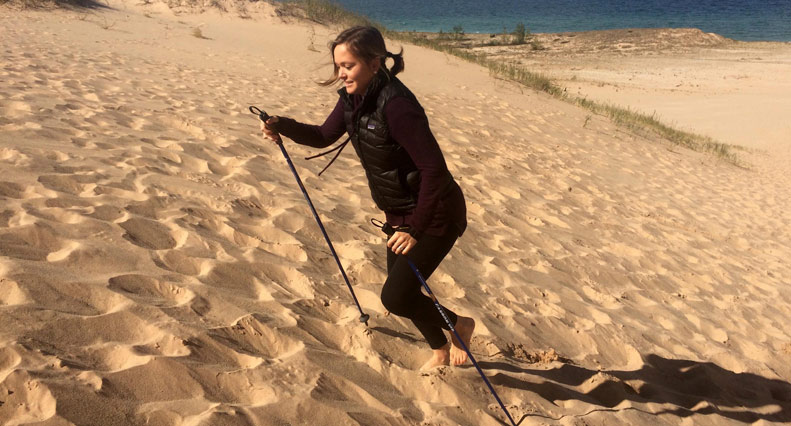 Our Nordic Walking Poles: Safer, Lighter, Stronger and Much More Stable!
At SKIWALKING.COM LLC and The American Nordic Walking System, all of our customers receive the Perfect Length Nordic Walking Poles for their height and we back it up with a Perfect Length Guarantee.
Our quality one-piece Nordic Ski Walking poles come in 32 standard lengths and are safer, lighter, stronger and don't collapse. Backpackers have tumbled down the trail when their twist-lock or flip-lock 2-piece or 3-piece poles unexpectedly collapsed – causing serious injury.
Our SWIX and EXEL Nordic Walking Poles are silent – unlike cheap/flimsy twist-lock and flip-lock systems on 2-piece and 3-piece adjustable length/telescoping/collapsible poles that vibrate and rattle – especially on pavement and other hard surfaces.
We custom fit all of our Nordic Walking Poles, and all of our customers receive a Perfect Length Guarantee, 100% Satisfaction Guarantee, and a Lifetime Breakage Guarantee. Skiers don't use cheap/flimsy twist-lock or flip-lock collapsible poles – skiers use durable one-piece poles custom fit to their height like our one-piece SWIX and EXEL walking poles.
Hundreds of our newest customers accidentally purchased cheap/flimsy 2-piece and 3-piece poles from other companies and then found that their adjustable length poles kept collapsing unexpectedly. They have all found our quality one-piece Nordic Walking poles far superior and much more user-friendly. One-piece poles good. Collapsible poles bad.