SKIWALKING.COM LLC and the American Nordic Walking System are dedicated to the fact that one-piece walking poles prove to be lighter, stronger, safer, more durable, more dependable and much more user-friendly than collapsible poles. So when Coach Edwards loads up and heads off to teach clinics and classes, he hauls bags of one-piece poles in a variety of different lengths. Traveling with collapsible poles would radically reduce inventory, but collapsible poles would reduce the quality of the experience for class and clinic participants. Coach Edwards has hosted hundreds of Nordic Walking Classes and Clinics across the country. He has personally strapped his quality one-piece SWIX and EXEL Nordic Walking Poles onto the hands of thousands of participants during his classes and clinics. Perfect Length Poles are a good thing. Twist-locks, flip-locks, push-buttons a bad thing.
Hikes in the Sleeping Bear Dunes National Lakeshore With Free Nordic Walking Classes And Free Nordic Walking Poles Rentals Summer 2019:  https://skiwalking.com/check-the-dates-hikes-in-the-sleeping-bear-dunes-national-lakeshore-with-free-nordic-walking-classes-and-free-nordic-walking-poles-rentals  – Summer 2020 dates coming soon.
Fall 2019 SKIWALKING.COM LLC and the American Nordic Walking System will launch the first Nordic Walking Instructor Training Program here in the USA that parallels that of the Professional Ski Instructors of America (PSIA). When Edwards received his Nordic Walking Certification 10 years ago, he was embarrassed because the course was not based correct bio-mechanics and didn't promote good posture 100% of the time. Edwards' coaching is based on 40 years of coaching runners and skiers, in addion to hosting hundreds of Nordic Walking Classes.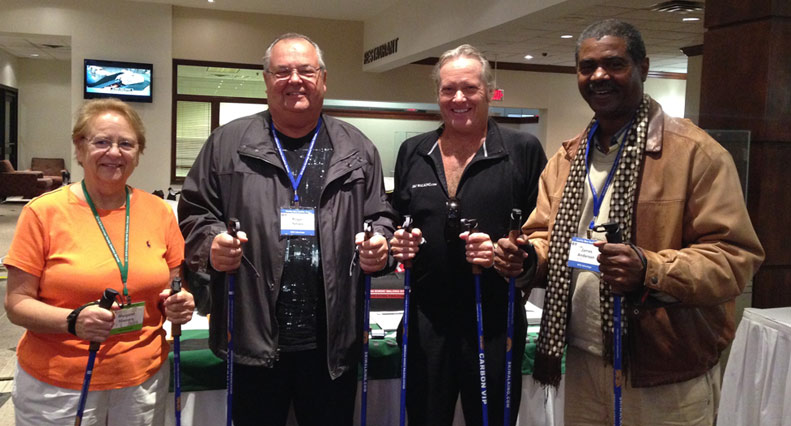 Blue Cross & Shield Health Expo – FREE Nordic Walking Classes – Lansing Center, Lansing, MI
Nordic Walking Certification – American Nordic Walking System:  Nov. 18th – 20th 2019
Level 1: Nordic Walking Ambassador – Bronze Level
Level 2: Nordic Walking Certification – Silver Level
Level 3: Nordic Walking Advanced Certification (part A and part B) – Gold level
Level 3: Nordic Walking Advanced Certification (part A and part B) – Gold level
* part B requires actual on hands teaching with video and written documentation
that can be submitted within the next 12 months to complete Level 3
Location:  Empire, Michigan