Cassidy Fisher (Edwards) joined Skiwalking.com in October as the new Marketing and Wellness Manager.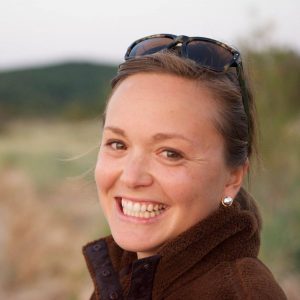 Cassidy comes to SkiWalking.com after almost three years as a Counselor and Client Advocate with the Women's Resource Center. Cassidy earned her MA in Clinical Mental Health Counseling from Western Michigan University. She is also a Licensed Professional Counselor and Nationally Certified Counselor. Cassidy utilized holistic health practices while working with survivors of domestic violence and sex assault. Techniques she often used with her clients were mindfulness, meditation, nutrition and movement. Many of her clients with disabilities used Nordic Walking poles from SkiWalking.com. This allowed them to use walking and nature as positive coping and therapeutic strategies. Cassidy built strong relationships with her clients and empowered them to make healthy and positive life choices in everything from their relationships, their lifestyle, their parenting to their employment.
Cassidy has a passion for coaching and helping people achieve their best self and accomplish success in all aspects of life.  She's had an on the side coaching business helping individuals achieve their athletic and fitness goals. She's used Nordic Walking poles from SkiWalking.com with her clients for strength and endurance purposes. She found them to be extremely useful for hill bounding and ski walking. The poles allowed her clients to simulate Nordic skiing as well as helped to build explosive and powerful movement.
In her personal life Cassidy is all about achieving wellness in her physical, emotional, social and professional lives. She is committed to healthy nutrition and builds movement and physical activity into her daily life. She is a compassionate person and loves connecting with people, listening to others and validating their uniqueness. She wants her profession to reflect her values and to allow her to help others to achieve healthy, positive and balanced lives.
Cassidy is excited to join her father, Pete Edwards, at SkiWalking.com as the Marketing and Wellness Manager. Cassidy is eager to help her father promote healthy habits and lifestyles through Nordic Walking. Through her own personal experiences as well as through her experiences with counseling and coaching Cassidy is well aware of the health benefits of Nordic Walking.
As the Marketing and Wellness Manager Cassidy will be responsible for day to day marketing activities and long term marketing strategy. She will develop content and oversee the company's website (skiwalking.com), blog, and other social media accounts (follow us on FB, Instagram and Google +). Cassidy will also be helping with the daily operations and organizational, administrative tasks. She will also be bringing to the table her passion for wellness by assisting in the expansion of wellness programs offered to clients at SkiWalking.com. She will be responsible for developing, coordinating, managing and maintaining programs that help clients achieve healthy lifestyles through nutrition and physical activity. The wellness programs will work with clients to reduce physical and emotional health risks and to eliminate poor lifestyle choices that affect overall health.
Cassidy has also taken on the role of Head Nordic Walking Instructor. She will be working with individuals and groups to teach proper Nordic Walking technique and discussing the health benefits of getting up, getting outside and moving (with poles).