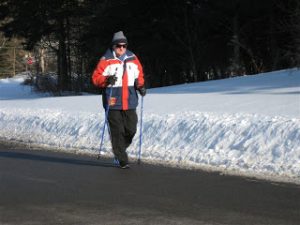 All of us at SKIWALKING.COM and the American Nordic Walking System are extremely grateful for all of our happy customers. We ship fast. We have the #1 rated poles in North America. We are honest about one-piece poles being ideal for all ages and all fitness levels – the best poles for athletes, fitness walking, weight loss, Nordic Walking, hiking, trekking, ………  And we are honest about collapsible poles and the cheap/flimsy twist-locks and flip-locks that weaken the poles.  Seniors should NEVER be sold collapsible poles and athletes destroy them. Our quality one-piece poles do not have cheap/flimsy twist-locks or flip-locks. They are not collapsible.
Happy Customers are a good thing. We never receive customer complaints about our user-friendly poles. We do receive orders from individuals that purchased collapsible poles from other sources and then found out just how horrible collapsible poles are.
Here is a recent note from a Happy Customer:  "This is a wonderful product!  The craftsmanship of the poles is remarkable with the smoothness of the aluminum shafts, the quality of the paint finish and best of all, the awesome design of the attached patented half-gloves that encase each hand (which is secured with a velcro strap).  The gloves allow you to use open hands without having to squeeze the poles' handles (gripping the handles too tightly can unnecessarily tire the muscles in the hands/arms/shoulders).  The gloves merely require one to exert pressure from the bottom of the hand (between the little finger and the wrist) to propel you ahead while you walk, jog or run.  The shipping speed of two days was incredible!  The poles were just perfect for my height." Jim
The comfortable patented straps really are amazing. Nordic Ski Shops sell these same straps for $40-$50 per pair and they are worth every penny. All of our walking poles are equipped with these amazing straps – including our lowest priced poles. $69.95 per pair.
The poles have extremely durable carbide metal tips for off-road – dirt, grass, beach, snow and ice. Removable rubber tips are also included – for pavement, cement, carpet, tile, indoor/outdoor tracks, ……..
Quality Walking Poles = Happy Customers.
Don't get scammed by cheap/flimsy collapsible poles – most likely made in China.